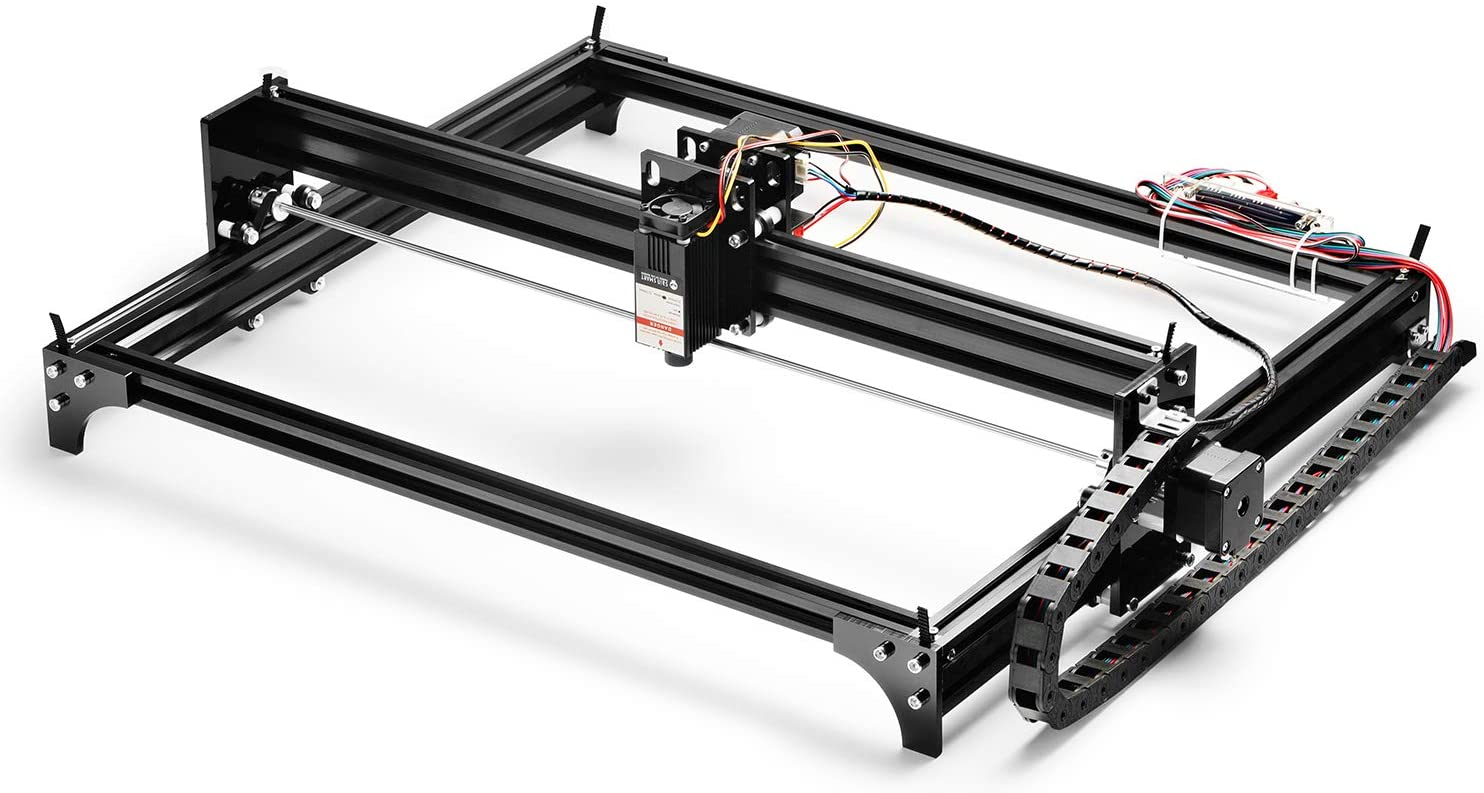 (Last Updated On: April 20, 2020)
Wood laser cutters or engravers have been around for almost forty years and are widely used for commercial and DIY purposes. These machines are excellent tools for adding a personal touch to almost any item and making your own customized objects. If you are looking forward to purchasing a wood laser cutter, keep on reading as this guide is for you.
What is Wood Laser Cutting?
Wood laser cutters use a manufacturing technology to burn or melt material away in a selective manner, following a specific set of instructions. In more detail, a laser is a high-powered beam of concentrated light, which heats things to a high temperature.
Wood cutting machines with integrated laser beams create hollow or deep cuts on the materials following an assigned pattern. The laser head is moved across a flat sheet of wood, creating burns and melting the material away to leave a fine surface finish. Because the wood laser cutting machine doesn't come into direct contact with the wood, users don't have to worry about flying wood chips or sawdust. Typically, laser cutters are capable of cutting through material up to 20 mm thick.
With laser cutters, it is possible to obtain smoother curves, tighter corners, and cut-out designs. As such, activities such as lettering, accessory-making and graphics become much easier and safer. To design a project for wood laser cutting, you need software that creates 2D vector graphics. Some popular programs are AutoCAD, SolidWorks, or Adobe Illustrator to name a few. However, many wood laser cutters come with their own integrated software.
Top Wood Laser Cutter Machines in the market
With the hundreds of laser cutters on the market, it can be quite challenging to decide which one is right for you. We have compiled a comprehensive list of the best and highest rated wood laser cutting machines taking into account their most outstanding and practical features.
CNC 3018 Pro Engraving Machine
This wood laser cutter is an upgraded version from the 3018 engraving machines. For a relatively affordable price, you will get a high-quality and extremely advanced laser cutting technology. The CNC 3018 Pro is not only ideal for cutting wood, but also a wide range of materials including plastic, leather, aluminum, and other hard-texture items.
One of the CNC 3018 Pro's most outstanding feature is its high precision laser, which has a focus of 0.1 mm. You will get clean cuts and engravings with clearly defined fonts and designs.
Overall, the CNC 3018 Pro engraver is a product made with the user in mind, so it comes with a pair of safety goggles to protect your eyes from any laser-related injury. It is also very simple to assemble even for not professional users. As most of the components are already assembled, you will have everything ready and working in less than one hour.
Image credit Amazon.com
Distinctive features:
Frame Dimensions: 330 x 400 x 240mm
Engraving Area: 300 x 180 x 45mm
Software: GRBL control systems
Power Adapter: 24V 5.6A adapter
Stepper Motor: Fuselage length 34mm, Current 1.33A, 12V, Torque 0.25N/m
Spindle: 775 spindle motor (12-36V) 24V:10000r / min
Supported System: Windows XP / Win 7 / Win 8 / Win 10 / Linux
Drill bits: Tip 0.1mm, 20 degree, diameter 3.175mm(10pcs included
Genmitsu CNC 3018-PRO Router Kit
If you are new to the world of wood laser cutting, the Genmitsu CNC 3018-Pro Kit is the tool for you. Specially designed for absolute beginners, this wood laser cutter is an excellent tool for self-teaching and it allows you to try your ideas without the risk of damaging expensive equipment.
Before purchasing, it's worth bearing in mind that the Genmitsu CNC 3018-Pro Kit does not come with an integrated laser beam. However, it is possible to add a laser module kit (the SainSmart Blue Laser module) to the machine for an extra cost. This laser module has been designed for the industrial engraving machine and works perfectly with the Genmitsu CNC 3018-Pro Kit. It adopts an intelligent feedback control circuit and you will get high stability, low noise, and excellent beam quality.
Another excellent thing about the Genmitsu CNC 301-Pro Kit is its quick assembly. You will not spend more than one hour on this task as all assemble pieces are included and the user guide is very clear.
Image via Amazon
Distinctive Features:
Frame Dimensions: 400 x 330 x 240 mm
Engraving Area: 300 x 180 x 45 mm
Software: Grbl control(Candle)
Rated power: 60W; Maximum power: 120W
Step Motor: 1.3 A, 12V, 0.25 Nm torque
Power Supply: 24V/4.75A
Supported OS: Windows XP, Windows 7, Windows 8, Windows 10, Linux, Mac OS
Drill Bits: Tip 0.1 mm, 20 degrees, Diameter 3.175 mm
Orion Motor Tech Upgraded (40W) Co2
At a simple glance, the Orion Motor Tech's laser engraver looks like a combination of toolbox and generation. Yet, don't let the lack of sophistication discourage you as this machine is highly functional. One of Orion Motor Tech's most distinctive and praised features is its Shenzhouyi design software, which gets you started on making a great variety of custom objects. Unfortunately, this software does not support iOS devices.
This engraver comes with a CO2 Glass 40W laser, which has a lifespan usage of 1,000 to 1,300 hours. The laser is capable of 1000 dpi resolution on your designs and it works well with most organic materials such as wood and bamboo.
The Orion Motor Tech laser engraver is also perfect for those users for whom safety is a top priority. The ventilation fan, for example, draws out the smoke and fumes generated during the engraving process. By venting out the smoke, you can protect the machine's sensitive parts from soot and other substances.
Image via Amazon
Distinctive features:
Machine Dimensions: 31.4″L X 19.6″W X 9.8″H
Engraving Area: 12″x 8″
Maximum item to be engraved: 10.25″W x 8.75″L x 2.85″H
Laser Power: CO2 Glass 40W
Motor Type: Stepper Motor
Vent Attachments: Air Exhaust fan w/ vent pipe
Power Supply: AC 110V
Resolution: Up to 1000 dpi
Supported OS: Windows 8, 7, 10 (64/32 bit), XP, 2000
Genmitsu LE5040 CNC Laser Engraver Machine
If you are looking forward to top-quality results and the perfect balance between affordable and entry-level, the Genmitsue LE5040 CNC Laser Cutter is the right choice. This wood laser cutter promises high efficiency as it delivers a position accuracy of 0.01 mm. You will get finely detailed patterns and the precision needed for your more complex projects with a cutting speed of 10,000 per minute.
The Genmitsue LE5040 CNC Laser Cutter provides an excellent 5.5w laser module, which leads to high stability, low noise, high efficiency, and an excellent laser beam quality. Apart from wood, this laser cutter handles a variety of materials such as leather, cardboard, fabric, etc.
If you prefer large working spaces, the Genmitsue LE5040 CNC Laser Cutter has got you covered as it offers a cutting area of 500 x 400mm. This makes it ideal for everything from home use, leisure time, and even small businesses.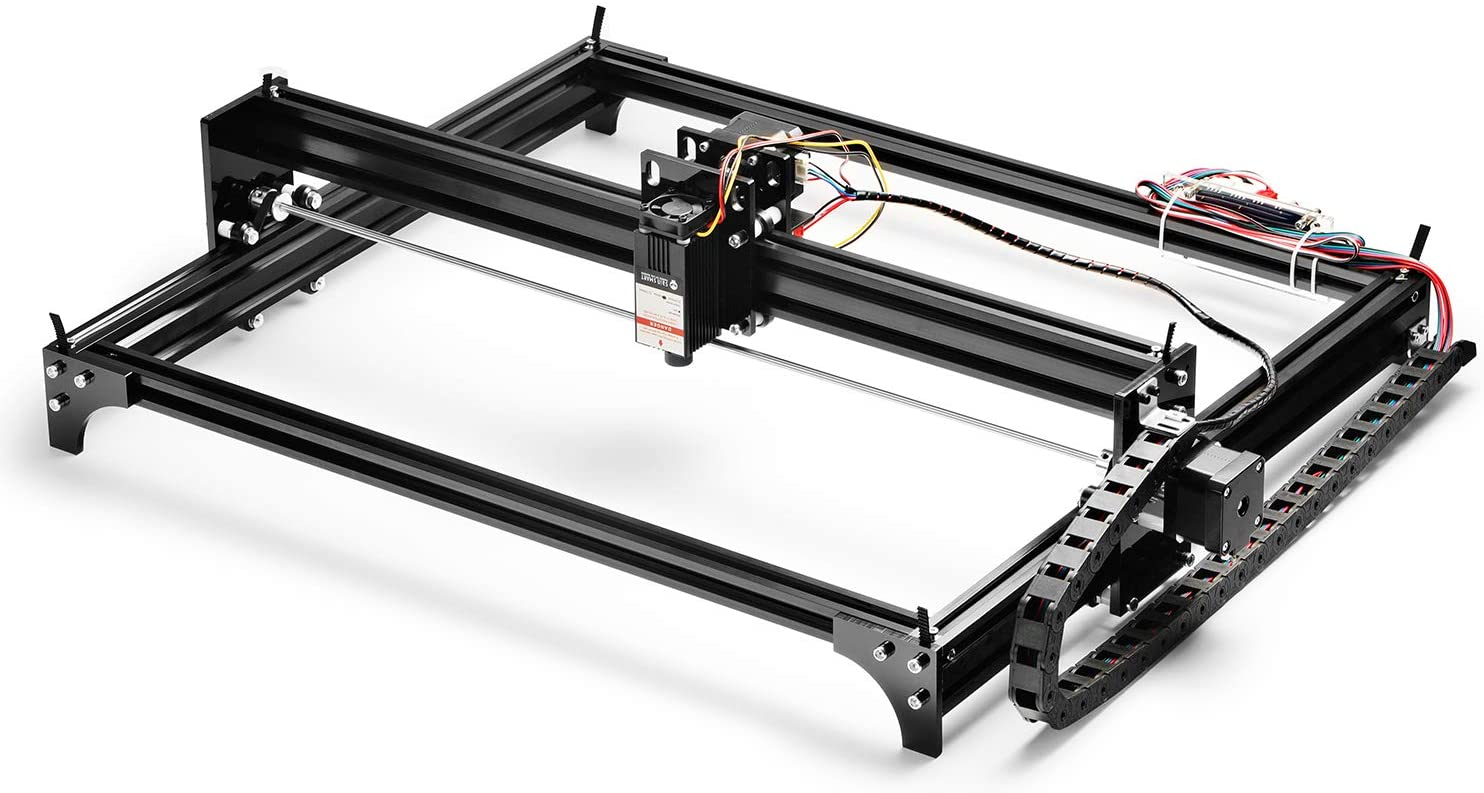 Image Credits Amazon.com
Distinctive features:
Frame Size: 645 x 515 x 185mm
Engraving Area: 500 x 400mm
Laser Power: 5.5W, support manual focus
Max Travel Speed: 10000mm/min
Power Supply: DC 12V/5A
I/O: mini USB
Stepper Motor: 42 stepper motor
Software: Lasergrbl, Candle, Compatible with all GRBL software
Supported OS: Windows XP, Windows 7, Windows 8, Windows 10
Difference between Wood Laser Cutter and CNC
If you have already started investigating wood laser cutters and all the available options, chances are you have come across the term CNC. In essence, CNC (Computer Numeric Control devices) is a tool programmed to receive and interpret designs from and computer and, thereby, guide a cutter
Cutting Wood with a CNC device is very similar to how a regular printer works. First, a design is created on a computer using software such as CorelDRAW or AutoCAD. Once the design is ready, the designer places a section of wood on the cutting surface. Then, the design is sent from the computer to the CNC design machine, giving the order to start the cutting process. The machine shapes the wood by moving the cutter back and forth and side-to-side along the axis.
According to Weldflow manufacturers, the main difference between a CNC device and a wood laser cutter is that the latter relies on heat to create the desired shape of the wood. While CNC carves out the design, laser cutting relies on the high-energy light beam that burns through the material. As a result, laser cutters offer more precision and more detailed cuts. For example, a laser can set a bean to as little as 0.1mm, whereas CNC's smallest radius is only slighter under 1mm. Additionally, because wood laser cutting involves burning, the wood edges are always clean and sealed. This improves functionally tremendously and enhances the overall appearance of the final piece.
Taking care of your Wood Laser Cutter
Every wood laser cutter is unique in its own way. Therefore, some laser cutters might have specific instructions regarding safe use and maintenance. For this reason, we advise you to read the instruction manual carefully and take care of your wood laser cutter accordingly.
In general, it is recommended to let your wood laser cutter have a break for every 30 minutes worked. After cooling down, the laser can continue working efficiently. Although most wood laser cutters have advanced technology and safety mechanisms, it is worth remembering that wood is extremely flammable. Thereby, you should not let the machine run unattended especially when it's cutting. This will keep you and your machine safe.
It's also very important to bear in mind that some components and core components have been previously assembled and should not be manipulated. For example, don't open the laser module to avoid damage and malfunction.
If you have enjoyed this article, you might find our Ceramic Tile Cutters Review and Buying Guide useful.